Here's how your finished Irish Quilt might look

You'll receive an beautifully printed "whole cloth" sheet, a remarkable reproduction on cotton-sateen fabric of an original oil painting, "The Irish Quilt," painted for this purpose by Barrie Maguire.
After you've bought the batting and backing cloth, you're ready to go. Stitch just the woods and hedgerow, or perhaps the cottages and ruins as well. Make it as ellaborate or simple as you choose, and when you're finished you'll have a unique heirloom your children and grandchildren will treasure.
Your wholecloth quilt will fade if washed, so dry clean only.
Your Irish Quilt will be approx. 33" x 44"
This is a limited edition offering - only 60 quilt kits will be sold.
The Irish Quilt Kit costs $79 (plus $10 for shipping and handling).
Satisfaction guaranteed... if you are disappointed with your Irish Quilt Kit for any reason you can send it back for a full refund.
To buy an Irish Quilt Kit... click here!
There will be stories in your quilt: cottages and ruins, a stone circle, a fox. Sheep graze in the fields, and swans drift at the mouth of the creek. A farmer and his sheepdog drive the flock down a narrow road to a new pasture.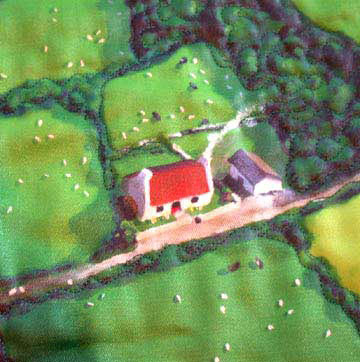 A red-roofed cottage and
tiny barn... turf smoke
drifts from the chimney.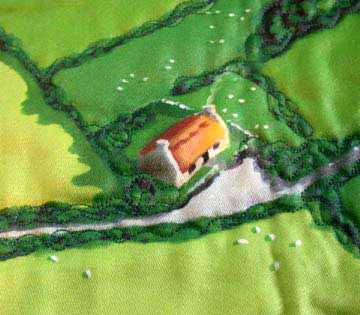 A thatched cottage,
turf stacked for the fire.
Sheep graze nearby.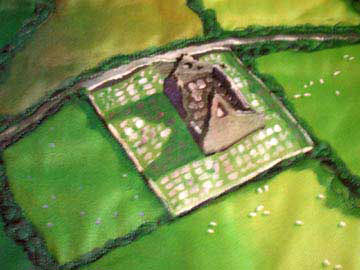 A medieval ruin
complete with blackbirds
and headstones.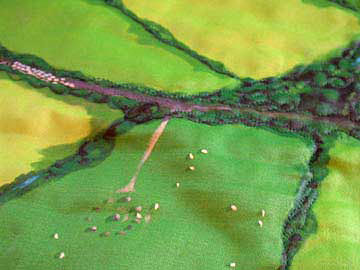 A flock of sheep move
down the road past the field
that holds a stone circle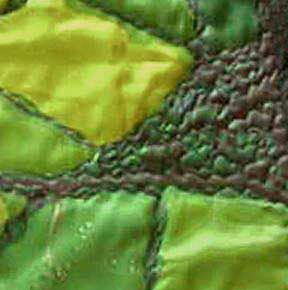 An example of how you might
stitch the hedgerows and trees.